Google Local Guide Program is an online community made by Google and the main aim of this community is to help people around the world who use google maps and other Google services. If you want to get google local guides benefits and perks then read this post.
In this community, people share about the place, and location, write reviews, post photos, answer the question asked by people, and edit and add new places, shops, and any public places.
This Local Guide Program community helps Google and other people to know about different places and their reviews and photos, you can take the help of Google maps to know about any new places and can check reviews and photos shared by Google local guides.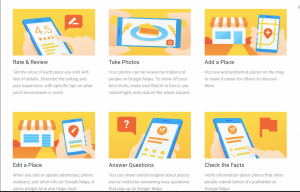 What is all about Google Local Guide Program?
Google Local Guides is a program that encourages people to contribute information about their local areas on Google Maps. In return for their contributions, Local Guides can earn points, badges, and perks like early access to new features and invitations to exclusive events. The program is free to join, and anyone can become a Local Guide.
To start, sign in with your Google account and add information to maps. You can add reviews, photos, and knowledge about businesses and places near you. As you add more information, you'll earn more points and unlock new levels with different perks. If you're looking for a way to give back to your community and help others find your city's best, then Google Local Guides is a great option. Not only will you be helping others, but you'll also get some significant benefits in return.
You may also be interested in a Top 10 Things You should not search on Google
Why Join Google Local Guide Program in 2023?
Google offers rewards and some cool benefits for their Local Guide Program. Once you started sharing photos, and reviews, answering questions, or adding suggesting any place you will start getting reward points. They offer different reward points values for everything. Here are the details about how many points you will get for posting different things on Google Maps.
            Map Contribution                                                   Points
Reviews                                                                           10 Point Per Review

Review with more than 200 characters             10 Bonus Points Per Review

Rating                                                                               1 Point Per Rating

Photo                                                                                5 Points Per Photo

Video                                                                                7 Points Per Video

Answer                                                                            1 point Per Answer

Response to Q & Ans                                                 3 Points Per Response

Edit                                                                                   5 Point Per Photo

Place Added                                                                 15 Points Per Place Added

Road Added                                                                 15 Ponis Per Road Added

Fact checked                                                               1 Point per Fact Checked
When you start contributing these things on google and getting rewards points then  Google will give you a level according to your points. Google Local Guide Program's basic level is Level 1 and the highest level is Level 10. Here are the details of each level and how many points you need to achieve to get become the highest level of Google Local Guides.  You need to achieve a higher level to get Google local Guides Perks.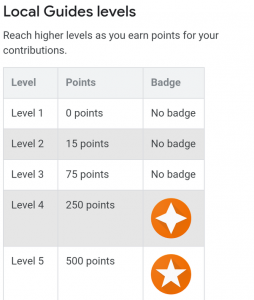 After reaching Level 4 you will be rewarded with a badge and this badge will improve as you achieve a higher local guide level.
How to Join Google Local Guide Program Community?
It is very simple to join Google Local guide Program community all you have to an active Gmail account. Just go to Google local guide website and signup there. All information will be automatically fetched by Google and now you are Google Local Guide Level 1. You can also download Google map apps on your phone and signup for Google local guides Program and start using your profile. Start Contributing and gain a higher ranking and some Cool benefits from Google. 
After Joining the Local Guide Program if you want to score points fast then you have to contribute regularly, from my experience to get some quick points to increase your local guide level submits Photos, reviews place, and answer survey questions.
Who Can Participate in the Local Guide Program?
Anyone interested in leaving behind a unique online guide for locals can sign up for the Local guide program. Photographs, reviews, Videos, and resources can be shared by anyone interested in the area they live or work in or visit in public life. There are no geographic boundaries so anyone can be a local guide. In order to become a local guide, all you need is a desire, a phone, and an internet connection.
You can start sharing your knowledge with fellow folks by creating reviews, photos, and videos on shopping, hospitals, eating out, nightlife, and many more.
This means that even if you don't live near a major city, you can still share your knowledge on Google Local Guide Program with others by offering reviews on local attractions and events and more.
What are the Google local guide Program benefits and perks?
When you Join Google local guide Program and start contributing then you will get some coll Google local guides benefits according to your contribution points and Local guide ranking. Here are the complete details about what benefits you will get at each level.
You can join Google-hosted workshops and hangouts and also in some countries, you can enter into exclusive contests for Local Guides. 

If you want then join the conversation at the Google

Local Guide Connect

website. At

level 2

you will get early access to new Google products and features and can promote your own meet-ups on the local guide cancer. 

When you become a local guide

level 3

you will be eligible to receive promotion of unofficial communities.

When you become local guide

level 4

then this is the level when you got your first badge and you will be eligible to be featured on Google online Channels like Facebook, Twitter, etc. 

When you will reach Google lOcal guide

level 5

then you will be awarded by exceeding the Google Drive storage from

15Gb to 1TB!

You can also get travel perks like bus ticket coupons and hotel discount perks as well.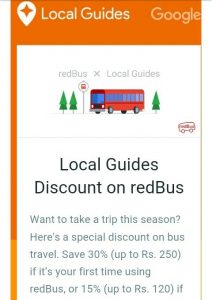 After reaching some highest level  Google will award you by some exciting gifts like local guide socks, a T-shirt, and some gift boxes like below.
You can also apply for Local Guides Meet in San Jose, California, USA. where the all-expenses-paid trip to Google's campus.

This is the Local Guides Meet that happens every year in California.

To apply for Google local Guides meet in California, USA  interested Guides have to enroll for it. Then later Google will select and then invite you, where Google bears all your expenses. You can also join Local Guide meetups in your city organized by Google. 

In June 2020 I received a coupon from Google local Guides Community for an ebook purchase from the play store.  Also, I received a travel discount coupon in MAY 2020.

Some of my friends also received 2TB of Google Drive storage for a year.
Google Local Guide Program Benefits in 2023
As 2023 starts you can get benefited from your Google local guide Program profile. If you have a good local guide ranking and build trust on google with your valuable creation on Google Maps.
Many businesses are getting huge benefits from Local search, as this helps them to reach customers easily. They are looking for a genuine and positive review of their business. For example, a Restaurant owner invites local guides and offers free food and for that, they ask you to do a positive review of their business from your local guide profile.
You can also add new business locations and images and gain Google's trust and users' trust. All I can say is, that you can use your local guide profile as a mini-influencer.
The Best Google Local Guide Benefit you can get from Google a Google Local Guide is If you get invited by them to a local guide conference, which happens every year.
One of the Google local guides Priyanka Upadhyay is invited by Google to attend the local guides summit 2018 in San Francisco. She shared some of the events snap-on Quora.
These images are very beautiful and we can feel the event was how energetic and entertaining. Find some snaps below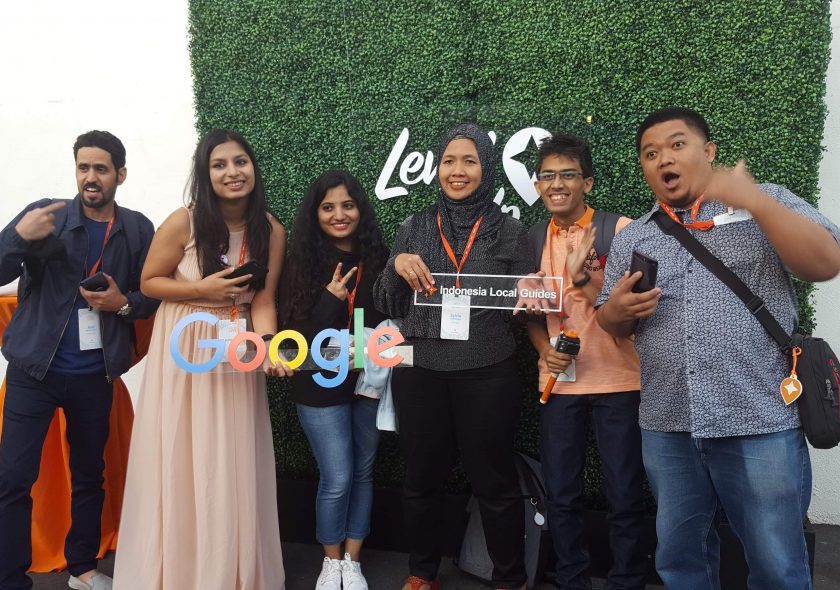 Final Words
If you continue giving your contribution to Google maps then you will receive many gifts for sure. I hope this will help you to know about the Google Local Guides benefits and  Google Local Guide Program perks. If you like this article then please share this with your friends.
Due to COVID Outbreak and lockdown travel industry gets highly impacted. As a Google Local Guide in 2023, you can contribute and give information that will help travelers. Information like what services are closed and what is running nicely in the particular area like restaurants, hotels, traveling places, metro, etc.
We should hope and pray that COVID will get disappears soon and that we are back to normal life and start traveling like earlier soon. If you have any suggestions or questions please let us know in the comment section.
You may also like to read about Traffico Anomalo Google and other related articles on Best Digital Updates.
FAQ
Q 1. How to become a Google Local Guide?
Ans: Download and install the Google Maps app on your Android phone or iPhone. Once the app is set up, please open it and agree to the terms and conditions. After that, start adding reviews for businesses and places in your area! You can also add photos, descriptions, and other helpful information to help other users get the most out of their visit to your neck of the woods.
The more valuable and detailed your reviews and tips are, the better your chances of becoming a Local Guide. Once you've been actively contributing as a Local Guide for a while, keep an eye out for emails from Google inviting you to take part in special projects or events.
Q 2. can you get paid for being a google local guide?
Ans: No, Google Local Guides do not get paid. Google has a local guide program that encourages people to contribute to Google Maps by adding reviews, photos, and other information about businesses and places. Local Guides can earn points, badges, and other rewards in return for their contributions.
Q 3. is google local guides worth it?
Ans: Yes, Google Local Guides is worth it! The program provides many benefits, such as early access to new Google products, free Google Play credits, and invitations to exclusive events. Additionally, as a Local Guide, you can share your knowledge around your city with others and help make Google Maps more accurate and useful.