Stutters are among the most irritating and frustrating issues you can experience while gaming. Besides ruining the immersion, stutters can indicate a problem with your settings, configuration, or hardware, such as your graphics card, CPU, or RAM.
Fortunately, PC gamers can access various solutions to diagnose the problem, find the source of the stuttering, and implement a solution. Try these tips to fix PC stuttering while gaming.
1. Check Your System Requirements
As time passes, newer games demand more resources than older games, and a PC that was top-of-the-line years ago may no longer have the power to run the latest titles at an acceptable frame rate. Before diving into more specific issues, always check the basics first.
First, check your current hardware, including:
Make, model, and speed of your processor or CPU (e.g., Intel Core i7-8700k or AMD Ryzen 7 5800x)
RAM amount and type (e.g., 16 GB DDR5)
Make, model, type, and graphics memory (VRAM) of your graphics card or GPU (e.g., NVIDIA GeForce RTX 4060 16 GB)
In addition to sufficient storage space to install games, the CPU, RAM, and GPU are the three most important factors determining a gaming PC's ability to run titles. Compare your hardware with the game's minimum and recommended configuration. If one or multiple aspects of your hardware are below the recommendations, it can result in slow-downs and stutters. Consider upgrading the outdated hardware. For example, purchase more RAM or replace your graphics card with a newer one.
If your PC's entire hardware is under the minimum specifications, it may be time to use a PC builder and pick out parts to create a new machine!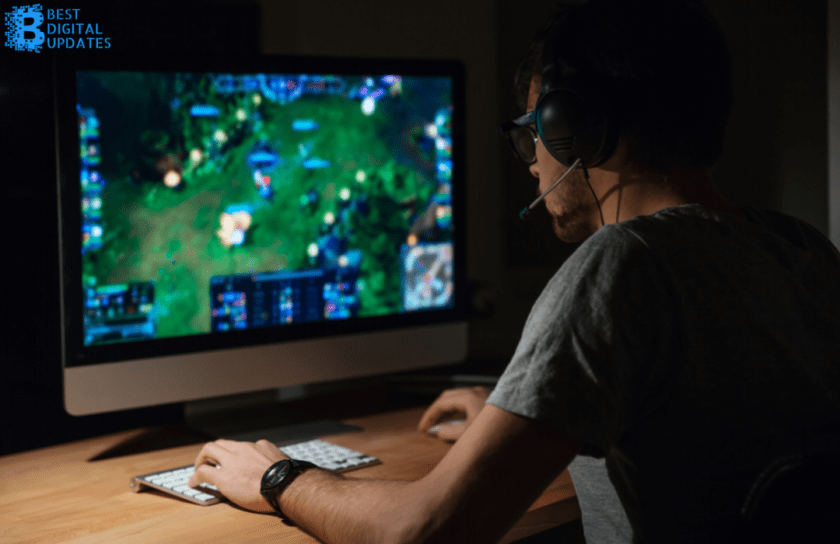 2. Keep Your Drivers Updated
If you are confident your system meets or exceeds the game's minimum or recommended specifications, the causes of your stuttering may be software-related. The simplest solution is to check your graphics drivers and ensure they are up-to-date.
If you own an NVIDIA graphics card, use the Game Ready Drivers application to check for driver updates and install the latest version. If your PC has an AMD card, you can use AMD Software Adrenalin.
3. Ensure Your Game Is Up-to-Date
Sometimes, stuttering issues occur due to a problem with the game's programming or underlying systems. If the game is new or actively being worked on by its developers, ensure you have downloaded the latest version. Older versions can cause unexpected issues that developers may have fixed in a patch or a content update.
The best way to update your game depends on the method you are using to launch it. Most games sold for PCs today are sold on platforms with dedicated launchers, such as Steam, Epic Games Store, uPlay, or publisher-specific launchers like the Rockstar Games or Battlestate Games launchers. Ensure the game you're looking to play is set to update automatically.
Most launchers also let you manually verify the game files, which analyzes whether your game files are complete and non-corrupted. If file verification finds bad or outdated files, it will update them without redownloading the game from scratch.
4. Tweak Your Graphics Settings
Stuttering issues often come from a low or inconsistent frame rate while playing normally. Although occasional frame rate drops happen in every game, you may need to lower your graphics settings if you find yourself dropping frames regularly.
One way to check whether your frame rate is related to the stuttering issues is to visit your game's graphics settings and look for an option titled "Show FPS" or "Display FPS counter."
Turning it on will reveal your real-time frames per second (FPS). Resume playing normally, and keep an eye on the number. If your FPS varies highly, frequently, or is consistently under your monitor's refresh rate (e.g., less than 60 FPS on a 60 Hz gaming monitor), your graphics settings may be too high for your hardware.
From there, you have two options:
Try changing the game's preset graphics setting (Low, Medium, High, Very High, Ultra, etc.) to a lower one. Doing so will have noticeable effects on your game's performance but may also degrade your game's visual fidelity or quality.
Go into the advanced options and fine-tune the graphics settings. Some options are common to all games, while others are specific to each game.
Make changes as needed and then resume testing your game until the frame rate is at an acceptable level. Once you've found the right settings, check whether running the game at a higher frame rate has solved your stuttering issues.
5. Close Unnecessary Apps and Programs
Today's games can be demanding on your system's RAM, and running too many applications in the background while playing can cause your game to stutter due to insufficient access to memory. This issue can happen even if your PC otherwise meets or exceeds the game's recommended hardware.
Open the Windows Task Manager to determine what programs and applications are currently using your memory. Check into the Processes tab and arrange applications by the amount of memory they currently use. Processes near the top use the most memory, whereas processes near the bottom use the least.
If you notice memory-intensive programs you don't immediately need while playing, close them to free some memory, allowing your PC to allocate it to the game. Some of these applications can also take up CPU and GPU resources, preventing your PC from dedicating optimum computing power to your game.
Common examples of resource-intensive programs and applications include:
Having large numbers of programs open simultaneously limits the amount of memory your operating system can allocate to your game. Limiting the number of open applications or upgrading your RAM are the two most common solutions to solve stuttering due to memory issues.
Streaming software, such as OBS Studio or Streamlabs, can require significant amounts of memory, CPU, and GPU processing to run. If your game is stuttering while streaming, consider lowering your in-game graphics settings, turning the streaming software off, or upgrading your hardware.
Web browsers can consume large quantities of CPU and RAM resources, especially with a large number of open tabs or resource-intensive browser applications active. If your game stutters, limit browser usage while gaming to optimize resource allocation.
Background game recording applications like the Windows Game Bar or NVIDIA ShadowPlay can draw resources to record gameplay. If you don't need these features and find the performance impact too high, consider turning them off.
Keep Your Gaming System in Shape
While several issues can cause stuttering or performance drops while gaming, there are many ways to address them and restore your game to optimal performance. When diagnosing problems and looking for potential causes, always remember to check the simplest potential causes before delving any deeper.
You might not need to adjust your graphics settings if you can solve the problem with a simple update. If your issue cannot be solved with tweaks and adjustments, it may be time to invest in upgrades or a gaming PC.