Businesses of all sizes generate hundreds to thousands of data and records in their lifespans. As a business grows, the volume of paper files can grow exponentially. That stockpiled paperwork can reduce efficiency and potentially cripple your business.  
A great solution is to move from paper to electronic records, a process called document digitization. In this article, you'll see the basics of document digitization, its numerous benefits, and the steps to digitize your business records.  
What Is Document Digitization? 
Document digitization is regarded as a crucial phase toward becoming a digital business. At its core, document digitization is simply converting physical paper documents into digital records using various techniques and tools. This allows you to efficiently use your documents in your digital processes and workflows. 
You can achieve that by using document capture software to scan paperwork and convert it into a PDF file and then using document management systems to store and retrieve them. 
5 Benefits Of Document Digitization 
Converting your physical paper documents into digital formats can offer various benefits for your business. Here are some of them.  
By digitizing documents, your business can eliminate physical papers that consume significant resources, including paper and ink, storage cabinets, security personnel, and more.  
With document digitization, you allow easy access to data and records from anywhere, anytime you need. It breaks time, location, and simultaneous access barriers, improving your organization's data flow. They're also searchable and can be retrieved faster promoting better productivity. No more spending time digging through piles of paperwork and physical files.
Digital documents make it possible to establish accessibility levels with your system. This enhances data security and makes it easier to maintain and secure data. You can protect your business from data breaches and leaks with proper cyber security.  
Digitized data is easier to replicate and store in multiple locations, particularly in the cloud, ensuring data safety and protection against loss and corruption.  
One of the most significant benefits of going digital is to reduce your business's environmental footprint. As consumers become more eco-conscious, reducing your physical paper use and switching to digital files can reduce your waste, thereby minimizing your environmental impact.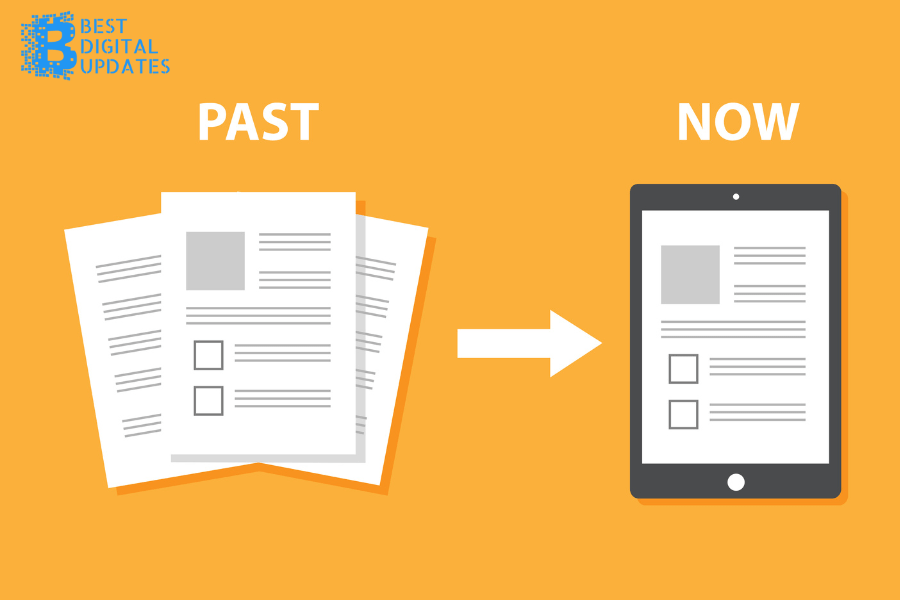 The Document Digitization Process: 4 Steps To Follow 
If you're convinced of the numerous benefits of digital documents, here are the steps to ensure successful document digitization.  
Identify And Prepare The Records 
Your business has hundreds of documents that need to be converted. So, you need to organize your records and determine which documents to prioritize and convert first. 
You can sort them correctly according to categories or by the department. Also, make sure to separate blurred or damaged papers from the rest. This practice may also help establish a categorization and filing system for your digital records unique to your business.  
Choose Your Tools Correctly 
Your data-capturing tools play a critical role in the digitization process. So, choose the right tools to bulk scan documents and convert them into PDF files  or the formats you prefer. In general, optical character recognition (OCR) technology tools are best at converting paper files into digital documents in a flash. It's also suitable for scanning normal to poorly written or blurred documents easily.  
Decide On Naming And File Format 
An efficient naming system for your digital files ensures faster retrieval. In general, file names should be descriptive and short. Use elements such as creation date, description, project number or name, and version number. Regardless of what naming convention you use, make sure it's clear and consistent. In terms of file format, most businesses convert their records into JPEG or PDF formats. 
Depending on your goals and budget, you can save converted digital documents in your business servers or migrate them to the cloud. If you only have a few documents, you can save them on your business computers and create backups on flash drives and external hard drives.  
That said, most businesses now opt for cloud storage due to its numerous benefits. Regardless of how you choose to store your files, pick a storage media that's fully secured and provides easy access.  
Take Away
The modern age has forced businesses to adapt to digital transformation to thrive in the ever-increasing competitive landscape. And in this digital world, paper records are slowly becoming obsolete as businesses realize the numerous benefits of going digital. If you're ready to jump into a digital world, the information above can hopefully help you through a seamless transition to document digitization.