Whether this is your first time visiting Orlando, or whether you have been before, you will want it to be the best vacation. To make your vacation great you have to have a good base to build on from. The resort that you stay in will have an impact on how your day starts, and how it ends. When you are looking at resorts, you want to be sure that you get true value for money, and you also want to make sure you get something that fulfils all of your group's needs. So, how can you make this happen, and what should you consider when looking for a resort in the heart of Orlando.
1. Proximity to Parks
If you are heading to Orlando because you want to visit the parks, then you need to be sure that the resort you choose is in close proximity to all parks. There are lots of parks to see, and visit, and when you are in a central location, you can be sure you visit them all. The last thing you want to do is travel (over a long distance) each day as this will leave you feeling stressed and frustrated.
Travel times have an impact on the length and enjoyment of your day, so don't make them any longer than they need to be. Choose a resort that is within touching distance of the parks, this way you will not feel restricted or limited in any way. There are some resorts in the parks that are Disney themed – however these can be costly, and they can limit you to a certain area or park, and this is not ideally what you want.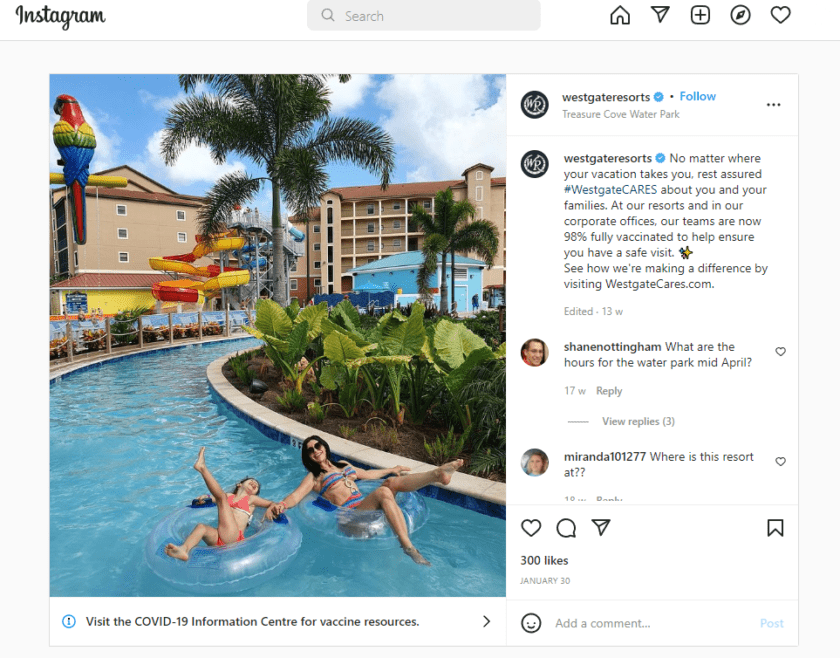 Source: Instagram, Posted on January 20th, 2022, Westgate Resorts Official Profile
2. What the Resort Has to Offer
"The treasure cove at the Town Center Resort"
Once you have decided whereabouts you want to stay, you then need to start looking at what a resort has to offer. For example, if you look at Westgate Resorts you will see that there Westgate Town Center Resort has outdoor water slides, giving your kids plenty to do (even after a full day at a park). When you are looking at what a resort has to offer, you need to think about your family's needs and requirements.
For example, do you need a variety of eateries to choose from – so that everyone does not get bored? Or, are you looking for lots of kids' activities to keep them entertained round the clock? If a resort is not fulfilling your needs or your kid's needs, then it will impact your impression of Orlando, and it may negatively impact your vacation. Reading reviews from real families and seeing what a resort has to offer is going to be beneficial to you and to your planning process.
3. Facilities and Amenities Nearby
As well as looking at what a resort has to offer, you also need to take into consideration what facilities and amenities are available nearby. For example, if a resort is located in the middle of nowhere (and not near anything else), you may find you are constantly traveling out of the resort to get or buy the things you need. This is, of course, not what you want because it is costly and time-consuming.
When you are weighing up on what a resort has to offer, make sure you check out what is around it. If it stands on its own, does it offer enough, or will you be forever weaning more? You will spend a lot of time in and around your resort, and you want to be sure that you have all bases covered. Facilities and amenities you may look for may include eateries and restaurants, shopping boutiques and malls, and great transport links.
4. Location, Location
There are lots of resorts to choose from in Orlando, but not all of them offer a great location. If you are spending 2 or 3 weeks in a resort, you will soon see just how important location is to you and to those you are traveling with. For example, if you are having to travel one hour or more to get to a park and back each day- will this affect you after the novelty of driving has worn off.
Of course, the location of a resort can and will affect its prices, but you should take into consideration how much you would be spending to get out and to where you want. A good location will be central to the parks and to other sites in Orlando. It will be close to facilities and amenities for all, and it will be easy to find. The last thing you want is to be driving around trying to find your resort after a full action-packed day at one of the official parks. To make getting the location that little bit easier, you may find it beneficial to get your hands on a map (physical or interactive of Orlando).
5. Price and Budget
How much can you afford to spend on a resort, and realistically how much are you comfortable with spending? When it comes to price and budget, you need to look at what you are getting for a daily or weekly rate, and not just the price itself. For example, if you are getting access to several buffets or restaurants, plus other facilities, then paying a little extra will be worthwhile.
Prices of resorts may again vary depending on whether you are looking at having a room or a suite. If you are traveling with young children, you may also find you need more than one room – this will again affect the price. Being realistic with your budget is important. If you are not prepared to pay for a resort that has a lot to offer, it will have an impact on your whole vacation.
6. Star Rating
A resort that has a good star rating is going to offer you more than one that has a poor rating, and this is clear to see. The star rating you go for will be dependent on your requirements and on your budget. If you make too many compromises with your star rating, you will end up with a less than pleasing resort. If you are traveling with a young family, the star rating is really important, as it shows that a resort is clean and safe for visitors of all ages. Even though a star rating might not mean much to you initially, it will aid your search. If you know the star rating you are aiming for, then you can start narrowing down your options and then creating your shortlist.
7. Transport
If a resort is a little further out than you would like it to be, you need to think about transport. Are you prepared to hire a car, or does the resort offer regular buses to popular destinations and parks? If you don't want to be doing any driving on your Orlando vacation, then this is a point you will want to focus on. Transport costs can be scarily expensive, especially when you factor in tolls, gas, and insurance, so where you can, choose a resort that either offers good transport options or one that is excellently placed for you to utilize Park systems and other affordable transportation systems.
8. Deals and Specials
Quite often, you will find that good resorts run deals and specials. These may impact how much you pay for your stay, or they may affect how long you stay. For example, some resorts give you an extra night free. Or, if you are staying for longer than two weeks, you may find that they give you a discount on your final bill. Deals and Specials should not be the only reason you choose a resort, but they may have an influence on the one that you choose. If deals and specials make a resort more affordable (without compromising on quality or service), then why wouldn't you want to stay there?
9. Themed or Official Resorts
Official Disney resorts or themed resorts can be funny to stay in for a night or two, but after this, you may find that they are far too restrictive. When resorts are located within a park, you may feel restricted (and this is not nice to feel on your vacation). The official, or themed resorts, can sometimes feel a bit overwhelming at times as sometimes they are very in your face. For example, if you have seen nothing but Mickey and Minnie Mouse all day, the last thing you will want to do is stay in a bed with their face all over it!
Getting the Right Resort For Your Trip – Your Next Move
Now that you have all of these top tips you can use, it's time to make the next move and make a booking. Prices can fluctuate throughout the year, and they can increase during busy (or peak periods), so don't hold off on making that booking for too long.