Inflatable paddle boards have been around for just about as long as the first stand-up paddle board.
They are easy to store, can travel with you on international flights and best of all they're fun!
Whether you're searching for that 'killer workout' or something else like cruising down a river, or getting into fishing then this article will help you get the most out of your inflatable SUP.
#1 – Don't wait until next summer / holiday… Buy today!
We all know how hard it is to find good weather during the winter months in the UK (or wherever you live) but also by waiting until next time you go away it's entirely possible that another year could pass you actually take your new SUP out for a paddle.
Yes, the weather might be rubbish but that's what wetsuits are for! And if you're anything like me you'll be itching to get out on the water as soon as possible so waiting until next time is only going to delay your paddling pleasure.
Paddle boarding is a great way to spend some quality 'you' time, it's an outdoor activity so there's no need to wait for good weather and best of all… It's really good exercise!
So what are you waiting for? Buy your inflatable SUP today!
#2 – Learn the basics – before trying anything else!
Just like learning to ride a bike or drive a car, there are some basic manoeuvres you need to know before trying anything more advanced.
It's best to start with the basics, these include: Getting on and off the board, turning around mid-paddle and best of all getting into that 'Superman' pose.
All this will take is a little bit of practice but learning the basics will help you get past that initial awkward feeling when you're just starting out.
You'll look like a pro in no time!
#3 – Buy some accessories
There are tons of inflatable SUP accessories available in stores today, in fact there are so many I'm not even sure where to start… But here goes nothing! Buying an inflatable paddle leash makes it much easier when your board inevitably drifts off (and trust me, it will!) and SUP gloves will protect your hands from those pesky blisters.
There are also a whole host of other accessories to buy including: Paddle board covers, lifejackets, dry bags and even a SUP cart!
So before you head out to buy your SUP, make sure you have a good look around at the different accessories on offer – you might just find something that will make your paddling experience that much better.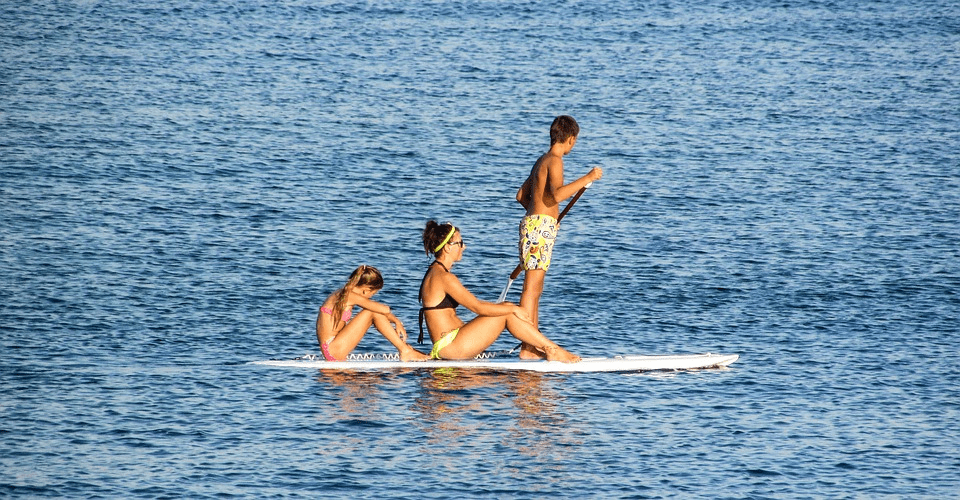 #4- Get yourself a good paddle
Not all paddles are created equal, in fact some can be downright terrible! If you're serious about getting the most out of your inflatable SUP then it's best to invest in a good quality paddle.
A good paddle will help you make the most of your time on the water, it will be easier to move the board around and best of all it will help reduce the amount of fatigue you feel after a long paddle.
So before you head out to buy your SUP, make sure you also pick up a good quality paddle!
#5 – Join a club or group
Paddle boarding is a great way to socialize and meet new people, in fact there are now many clubs and groups that have formed specifically for paddle boarding. This is a great way to get the most out of your SUP, not only will you learn new techniques but you'll also make some great friends along the way!
If you can't find a club or group in your area, why not start your own? Local stores will often stock everything you need to get started and best of all you'll be able to call yourself an 'official' stand up paddle boarder!
#6 – Take it slow… When learning new skills.
Paddle boarding is actually quite easy once you get the hang of it but best of all beginners are always welcome on most paddling trips. This means that there's no pressure for you learn how to do every trick instantly, best of all if something goes wrong then everyone else will be there to help out and keep things fun!
If possible take a course or hire an instructor who can show some basic techniques and best of all if you're planning on taking children out then best to get them some professional lessons (especially if they're inflatable SUPs!)
#7 – Keep things fun and interesting
There are tons of ways to keep it excited, best of all there's no limit to how many poses you can get into or tricks that can be done! If you've got a good group together then best to get everyone together and see what kind of stunts they can come up with.
You could make 'practise' sessions where each person has one minute to try and stand up on the board in an unique pose. Whoever stands up in the most unusual way wins… Or maybe have a competition where each person tries to go furthest in ten minutes? With a Yoga paddle board there really is no limit to the amount of fun you can have on a SUP!
Just remember to keep things safe and have fun!
Now that you know a few basics about getting the most out of your SUP, it's time to hit the water and start paddling! So what are you waiting for? Get out there and enjoy everything that paddle boarding has to offer!
Also, read a beginner's Guide to Hoverboards.
Best of luck – and happy paddling!