A honeymoon is quite possibly the most important holiday of your life. And it's important that you spend it exactly the way you and your new partner want to. In this post, we'll take a look at 15 of the best Pretty beaches in the world for your honeymoon. The one thing they have in common? They're all absolutely beautiful. Let's take a closer look!
Railay Beach, Krabi, Thailand
Railay Beach is one of the images most synonymous with Thailand. The towering karst cliffs, longtail boats, and white sands are lapped against by the azure waters of the Andaman Sea. Though Railay is attached to the mainland, you'd have to hack your way through dense jungle to get there. So, the only way to get to the beach itself is by boat. Is worth the effort though!
Kuta Beach, Bali, Indonesia
Undeniably the most famous part of Bali, Kuta is a cool, if quite a busy beach. It's got all sorts of entertainment, with everything from international restaurants to awesome nightlife. Kuta Beach is a wonderful place to try out stand up paddle boarding and/or surfing. If you're a new paddle boarder, check out this guide here. It won't put too much of a dent in your budget, and it's easy to find a place to rent boards and take your first steps into the water. A must for adventurous honeymooners!
Maya Bay, Koh Phi Phi, Thailand
Another Thai Beach, this one you might recognise from the movie – The Beach. Follow in the footsteps of Leonardo di Caprio on this tranquil bay on the Ko Phi Phi Islands in Thailand. The one downside of Maya Bay is that it's not exactly a secret, and you're very unlikely to have the beach all to yourself. However, that still doesn't take away from how pretty Maya Bay is!
La Concha, San Sebastian, Spain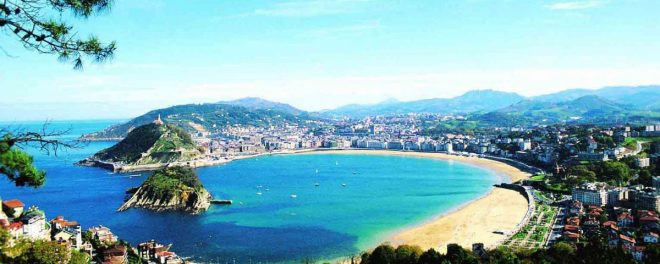 Known as one of the 12 treasures of Spain, La Concha in San Sebastian is the ideal honeymoon beach if you and your partner like your food. Hidden up on Spain's north coast in the Basque Country, La Concha is blessed with long golden sands which are perfect for a romantic walk. Once you've made the most of the beach, head into San Sebastian to enjoy its unique dining culture – tapas and pintxos can be enjoyed from the smallest backstreet bar to the top high-end Michelin star restaurants!
Navagio Beach, Zakynthos, Greece
Also known as Shipwreck Beach, Navagio Beach has its other name due to a large shipwreck which washed up here in the 1980s. Surrounded by towering white cliffs, you can only get to this place with a water taxi. While you ca enjoy swimming and snorkelling here, it's hard to escape from crowds. In fact, it's one of the most Instagrammed beaches in the world!
Anse Source D'Argent, La Digue, Seychelles
The Seychelles are an Indian Ocean paradise for honeymooners, and it's no surprise that there are some stunning pretty beaches here. Anse Source D'Argent on La Digue Island is known as the most photographed beach in the world. The waters are such light turquoise against the powdery white sands, but what makes this place so photogenic is the unusual boulders just steps from the sand.
Whitehaven Beach, Australia
With four miles of powdery sand on the coast of the Whitsunday Islands, Whitehaven is the premier beach destination in Australia. Easily accessible through Wings Bareboat Charter Whitehaven beach and the Whitsundays islands are ideal for any honeymoon destination. The only problem with travelling here and taking a dip in the sea is that you have to watch out for sharks!
Monterosso Al Mare, Cinque Terre, Italy
Cinque Terre is one of the most beautiful destinations in Italy. Despite having five towns along the Ligurian Coast, only Monterosso Al Mare boasts a sand beach. With lots of deckchairs and umbrellas, it's like taking a step back in time and enjoying the high life that so many of the first Hollywood stars enjoyed on their European breaks!
Praia Dona Ana, Portugal
There are more than 100 pretty beaches in the Algarve, but Praia Dona Ana is often thought of as the most beautiful. Near to the town of Lagos and surrounded by golden cliffs, lie back on the sands of the same colour and work on your tan. If it gets a little too hot, take a dip in those clear waters.
La Playa Escondida, Puerto Vallarta, Mexico
Meaning the Hidden Beach in English, La Playa Escondida near Puerto Vallarta is one of the most unique (and photogenic) beaches in the world. It's an hour long boat-ride to the Marietas Islands and then a trek to the beach itself, but to sunbathe in a roofless cave is totally worth it, right?!
Lanikai Beach, Oahu, Hawaii
When choosing the best beaches to visit in Hawaii for your honeymoon, it's not an easy choice. However, nowhere encapsulates the laid back vibe better than Lanikai Beach on Oahu. Lanikai means Heavenly Sea and it's one of the most popular pretty beaches on the islands for locals and tourists alike. There's a lagoon in front of the beach which is great for kayaking and stand up paddle boarding.
Grace Bay Beach, Turks and Caicos Islands
Like Hawaii, it's almost impossible to choose the best beach in the Caribbean. However, if you want electric blue waters, powdery white sand, and a laidback atmosphere then you won't go far wrong with Grace Bay Beach. There are a bunch of spas and beach bars here too, and plenty of resorts where the two of you can pamper yourselves!
Playa Manuel Antonio, Costa Rica
Hidden away in a national park, there are two main beaches in Manuel Antonio National Park – one of which is named after the park itself. A 30-minute hike from the entrance, this beach has some of the most beautiful sunsets you'll ever see.
Zlatni Rat, Brac, Croatia
Croatia's miles of shoreline and hundreds of islands make for some great pretty beaches, but the most beautiful is surely Zlatni Rat. The miniature peninsula extends out into the sea and it's a popular spot for windsurfers near the coastal town of Bol.
White Beach, Boracay, Philippines
Finally, Boracay's White Beach in the Philippines. The 4 kilometre beach means that even at its most crowded you'll have no trouble finding a spot on the sand. It's also one of the cheapest places in the world to learn to surf!