Pakistani salwar suits are one of the most admiring and highly sophisticated attire that makes you look diva at wedding functions and festivals. These pretty suits are detailed with dazzling embroideries and prints which makes them look just exemplary and supremely gorgeous. 
If we go through the list of Pakistani dresses then we will come to know that they usually have some flared and loose pattern making them perfect for every body type. The prettiest salwar kameez patterns are the pant style and slit salwar suits. There are many more patterns and designs of these beautiful dresses. Here are some of them.
Pant Style Pakistani Suit 
One of the most elegant yet pretty attire is the pant style Pakistani suit. The combination of a narrow pant and straight kameez with matching dupatta makes a comfortable yet stylish salwar suit that helps you look fashionista whenever you don it. The length of kameez and flare of pants may differ according to the style and design in which they are made. But you don't need to worry as you can pick anything you love.   
Pakistani Slit Salwar Suit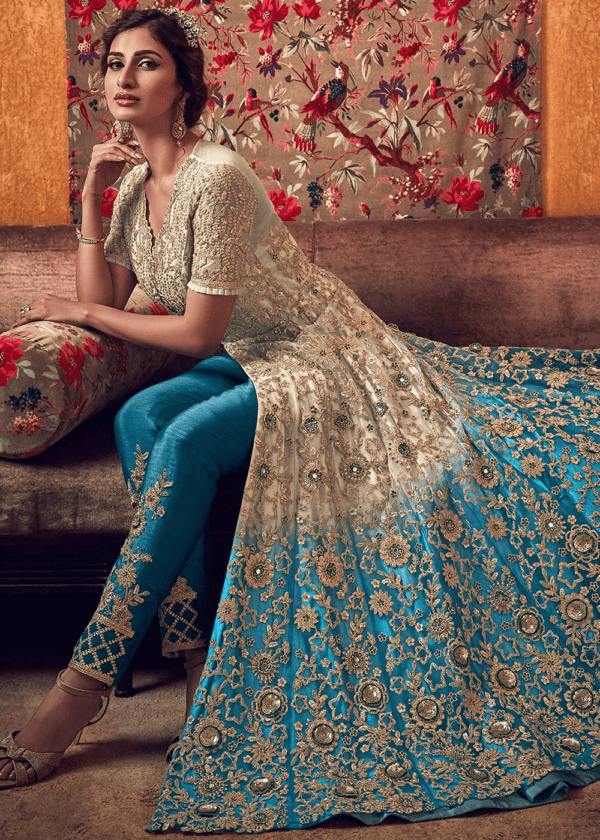 The modern and traditional trend can be perfectly managed with the beautiful slit salwar suit. It completely resembles anarkali suit and has a front slit which gives the attire a modern touch. Of all the Pakistani dresses, a slit salwar suit tends to be one of the most amazing attire. Most commonly it is liked by young girls as it gives the wearer a stylish and classy appeal.
Pakistani Sharara Salwar Suit
The flared and attractive Pakistani sharara suits every occasion. From casual gatherings to wedding functions, sharara is the limelight everywhere. It is one of the striking Pakistani suit having the origin from the Mughal period. Once again this gorgeous suit is ruling the ethic fashion and has become every woman's prior choice nowadays. Shararas and ghararas both are the cutest pick ever.
Palazzo Salwar Suit 
For a relaxed and comfortable feel choosing a palazzo suit is highly recommended. This suit consists of a flared bottom which may be straight from wait to ankle or the flare may gradually increase below the knees. The best part about palazzo is that it can be paired with both straight and flared kameez. Pakistani dresses in palazzo patterns are a comfortable yet graceful pick for every party and occasion.
Anarkali Pakistani Suit
The one without which every function is incomplete is the Anarkali Pakistani suit. The flares of anarkali resemble the Mughal era and give the wearer the most sophisticated appeal. All you need is to pair the flared kameez with a fitted bottom including narrow cigarette pants or a churidar salwar. The trend is now also to pair the knee length kameez with palazzo and matching dupatta for a complimenting appeal.
Pakistani suit have the essence of tradition and culture due to which women highly prefer to wear them at weddings and auspicious functions. Also, they are detailed with heavy embroidery and prints to make the attire look much flawless.
Conclusion       
The best way to get Pakistani dresses is to scroll for them online which saves your time and energy. Textile Megastore is one of the leading manufacturers and suppliers of Pakistani suit and you can buy your favourite dresses from here, that too at a reasonable price.