According to data on how Americans commute to work, 128 million people drive to work each day. Unfortunately for many of these people, the average commute time recently reached a new record.
In essence, this means that millions of folks are spending more time in their cars than ever before. Since people are spending a sizable chunk of their week behind the wheel, it only makes sense to make the commute a more pleasant experience.
Fortunately, gadgets such as Bluetooth car adapters that cut down on wire management, infotainment systems, and other devices are available to help upgrade your ride and make the time you spend behind the wheel safer, more enjoyable, and (in some cases) more productive.
Ready to enhance your daily commute? Here are six items that will help you achieve that aim.
1. A Dash Cam
An untold number of car accidents occur every year in the United States. No matter where you are in the nation, traffic can sometimes get a little dicey. Therefore, if you find yourself in one of these accidents, having a dash cam to record the incident can potentially save you some serious legal and financial heartaches.
The fact is that purchasing a dash cam can help you to settle insurance claims, fight traffic tickets and even keep an eye on your car while you are at work. However, be sure to research your state's laws before installing a dash cam, as there are some gray legal areas.
2. Phone Mount with Charging Capabilities
Given how much time you are likely spending on the road, getting a phone mount for your vehicle is obvious, as this is a great way to have it in your line of sight while keeping your eyes on the road.
That said, not all phone mounts are created equal. Those that possess charging capabilities, such as a MagSafe car mount kit, enable you to keep your phone securely mounted and completely charged.
While a phone mount is good, one that charges your phone is better.
3. A Waterproof Trash Receptacle
Those who commute will inevitably end up with trash in their cars. From fast food bags to tissues, the struggle to maintain a clean vehicle is real.
However, a messy interior can be a thing of the past simply by procuring a dedicated trash bag for your vehicle. Of course, getting one that is waterproof is essential, as you don't want it to leak if any half-full water bottles or cups with ice get tossed.
Fortunately, finding one that suits your style is likely to be relatively easy, as there are a variety of great car trash cans available online.
4. USB Charger
Maybe you don't have an Apple device or your phone is not compatible with magnetic chargers. If this is the case, you still need a means of charging your phone while driving.
Therefore, you will want to pick up a USB car charger. These devices simply plug into your vehicle's cigarette lighter port (otherwise known as a DC port) and supply you with a USB-A, USB-C or combination of USB ports to charge up your devices while on the road.
5. An Emergency Escape Tool
While nobody wants to think about getting into an accident, and many people think they never will, the unexpected happens to people every day. If you find yourself in such an emergency situation, possessing a car emergency escape tool can be a literal lifesaver.
These types of devices often feature a variety of tools such as seatbelt cutters, glass breakers, flashlights and similar components. Moreover, these kinds of emergency tools also come in a variety of sizes, allowing you to keep them anywhere from in your glovebox to on your car keys.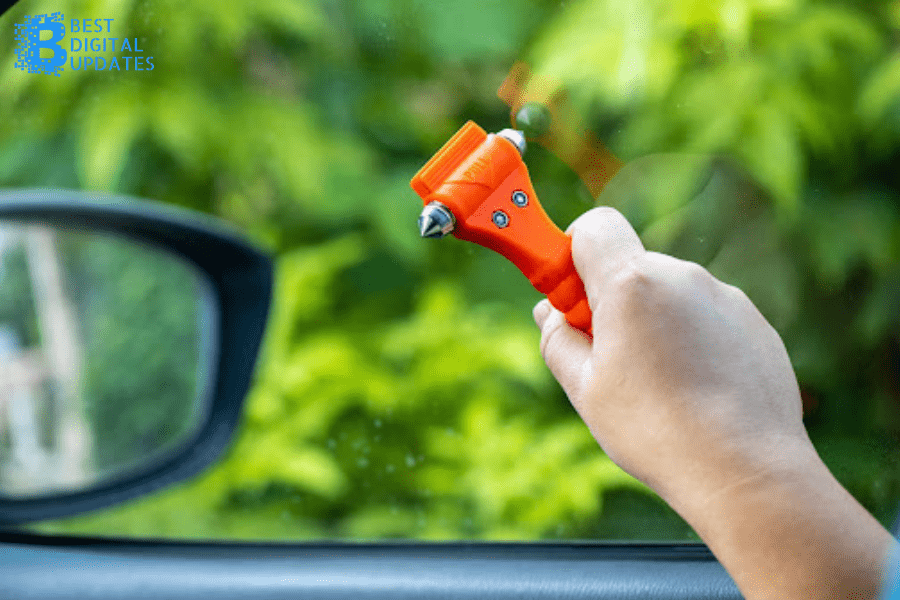 6. Steering Wheel Desk
When you commute to work, it isn't just the drive itself that you need to worry about, as you are going to be spending from eight to ten hours away from home. In that time, you are likely to occasionally find yourself eating lunch in your car.
While this situation is not ideal, it does happen. When it does, it is nice to be able to do so comfortably. This is where a steering wheel desk comes into play. These nifty little accessories hook onto your steering wheel and provide you with a place to set your meal. Alternatively, if you wish to do some work, they are also sturdy enough to hold a laptop.
You may not need it all the time but when you do, you'll be glad you have a portable way to eat or work in your car.
Upgrading Your Hours on the Road
Commuting to work is just a fact of life for many. While it may not be ideal, it is necessary. However, this does not mean that it can't be comfortable, pleasurable, and safe.
Pick up the items listed above and make your hours on the road a little bit more enjoyable.