A mouse is an important part of your laptop and desktop, it is used on a daily basis for office work, education work, gaming, and others. If you are looking for the best Gaming Mouse under 1000 in India 2022, then read this article. In this article, you will read about the top 10 gaming mouse available in India with their pros and cons and you can easily decide which one you want to buy.
Whether you are a Normal Gamer or a hardcore gamer you need a mouse while playing games whether it is wireless mice or wired mouse. In a Wireless mouse, you will feel more comfortable but in a wired mouse, you will get the best control in playing any game.
The only thing that you may not like is the battery consumption by wireless mice. There are many brands who provide wireless gaming mouse with great battery backup time, we will explain about them in this post.
Top 10 Gaming Mouse Under 1000 in India (2022)
Here we are going to share the list of 10 best gaming mouse under 1000 in India with its details features, pros, and cons. I hope it will help you to decide the best product for yourself.
So what is the best Gaming Mouse under 1000 in India?
10 Best Gaming Mouse under Rs 1000 in 2020
Redragon Phaser is one of the best budget gaming mouse available in India under 1000 price range with 3200 DPI level. This wired mouse contained 6 programmable buttons including 2 customizable thumb buttons that allow adjusting the mouse for according to your needs. This mice Textured surface of the upper button decreases the risk of false click or invalid click. So you can enjoy and play your game with more accuracy. I Played these games AC: origins, the shadow of the tomb raider, CSGO, paladins, etc easily with this mouse.
Also Read:  Best Wireless mouse under 1000 in India
While using this mouse I can say this is built for casual gaming but you can also play many multiplayer games with it but sometimes you can feel lags.
Pros:
Fully customization, from polling rate to animations everything is customizable.
It has 4DPI settings, Max DPI is 3200.
Braided Cables with the inbuilt tie.
It has PMW3325 sensor which can track speed up to 100ips, which is not bad.
Cons:
 Mouse weight is a little heavy but provides stability
RGB lights should've been customizable
For FPS Gaming it is not perfect.
You can check Price of this mouse here: Check Here
Zebronics is a well-known electronics brand and Zebronics mouse is also popular in India. If you are looking for a premium and best gaming mouse under 1000 then this is a mouse you should choose. It comes with a 3000 DPI adjustable Gaming sensor that gives you a smooth gaming experience, it also has 6 buttons with DPI Switches. You will also get the best quality mouse pad with this gaming mouse. I never faced any lag precision issue while playing a game with this mouse. You can go for it in this price range.
Pros:
 Best RBG lighting option in this price range.
 This mouse is very responsible and builds quality is pretty sturdy.
 You will get a free mouse pad with these mice
 Very good wire quality
Cons:
 Little large in size so if you have a small palm then you can find it difficult to use.
 Sometimes the scroll button produces a bit more noise.
 missing Programmable Buttons
You can check Price of this mouse here: Check Here
This wired optical gaming mouse comes with 4800 CPI and Huano 5 Million Click Switches And 5 Macroable Buttons. It also has Features 16.8 Million Colours Customizable RGB Lights And 1.8M Durable Braided Cable. I used this mouse for more than 3 months and never feel any lag while playing most of the games even while playing multi-player games. This mouse works fine on the mouse pad and normal surface both. You can consider this for best gaming mouse under 1000 in India.
Pros:
 It comes with 4800 CPI which gives this mouse more stability and accuracy.
 Armaggeddon SCORPION mouse comes with Huano 5 Million Click Switches
 Build quality is perfect and comes with a 2way scroll
Cons:
 A little slippery grip because of the plain textured side.
 a bit heavy if heavy gamer who play 2-3 hours continuously
Check Current Price of this mouse here: Check Here
HP is also offering a gaming mouse in this price category, HP M220 mouse is an optical gaming mouse that comes with 4000 DPI resolution and you have the option to set 2 DPI options.  This is a USB 3.0 compatible mouse support high-speed transfers.
LED lights are perfects and it fits perfectly in medium hands and almost every hand so don't worry about it. The side button on this mouse is a little big so it is very easy to click and impressive response rate at this price range. HP is already a reputed brand so you can trust these mice but I recommend this for only casual gamers.
Pros:
Know the brand "HP" so you can trust about quality being told
Build quality and switch size is good
Best for FPS gaming
Two DPI buttons to switch in-between without cycling again
Cons:
The mouse click is a little loud
Side buttons are not customizable together ( You can customize one by one)
Not perfect for heavy gamers.
Check Latest Price of this mouse here: Check Here
Amazon itself offering an Ergonomic gaming mouse that comes with max 3200 DPI resolution. The company claims that it is capable of 50 million clicks and has 16 million customizable colours. This gaming mouse also comes with 6 programable buttons and onboard memory also it is easy-to-program because it included AmazonBasics gaming software wit it.
It is also a lightweight mouse ( 136g) so you will not find any difficulty in long hours playing and it is compatible with windows 7, 8, and 10 but not compatible with Mac OS. When it comes to he built design and materials, I was massively surprised at how well this has been put together. The plastic has a smooth and soft feel but at the same time is not something I would call fragile – great stuff.
Pros: 
The mouse fits good in the hand
Changing of DPI is easy because of colour coding
You can save multiple profiles with your customizations thanks to onboard memory
More DPI adjustable options 200, 400, 1200, 1600, 2400, or 3200 DPI.
Cons:
Not compatible with Mac OS
Price is a bit high
Sensors are not sharp
You can check Price of this mouse here: Check Here
Offbeat Killshot Wired 7D Button Gaming Mouse is the best mouse under 1000 rs price category, it comes with max 6400DPI sensors and you can manually set its DPI into 4 setting such as 1600DPI, 2400DPI, 3200 DPI, and 6400 DPI settings. This mouse has 7 programmable buttons that give you the best gaming experience and you can connect it with both USB 2.0 port and USB3.0 Ports easily. This wire with this mouse is a length of 1.5m is a braided cable and ensure that zero lag while playing and respond under 1ms with a 60G acceleration & 204 inches/sec speed.
Also Read: Best wireless headphones under 2000
I used this mouse for casual and multi-player gaming and never feel any difficulty or lags. I like its 16 million colours sets RGB breathing lights and large optical sensors. One more this I like about this mouse is its premium soft touch and fits in palm while playing games. These features make this mouse as one of the best gaming mouse under 1000 in India.
Pros:
Premium build quality with sweat-proof surface and soft touch
you will get 4 DPI setting 1600DPI, 2400DPI, 3200 DPI, and 6400 DPI
braided cable with 60G acceleration & 204 inches/sec speed.
best RGB lights with 16 million colours sets
Cons:
Too lightweight only 81.6 g
Some people complained click on this mouse is a little hard as compared to others in this price range
You can check Price of this mouse here: Check Here
Tecknet Raptor Gaming mouse comes with Tru-Wave sensor optimization for high-accuracy cursor control. It has 3200DPI sensors and 4000 frames/sec frame rate. This mouse is designed to fit perfectly under the palm of your hand so that you can use it for long hours without hurting your hand or palm.
You will get a Silver USB cable and durable braided wire with this mouse.  It has 6 programable buttons and the weight of this device is 150g only.  While playing games with this mouse there is a very low chance of false or accidental clicks because the DPI mode button sits right below the scroll wheel.
Pros:
Very Good build quality mouse body, wire, and buttons
Easily fits in the palm and generally no lagging even after playing hours regularly
LED's look cool
best for FPS and survival games
Cons:
Get sweaty after long use due to warm material
some people found it a little heavy (150g)
You can check Price of this mouse here: Check Here
This mouse is called an intelligent mouse because there is no need code or plug it, It comes with 5500DPI and 8 programmable buttons make it the most efficient and accurate mouse under this price category. You can manually adjust it DPI setting according to your need such as 800DPI, 1600DPI, 2400DPI, 5500DPI.
Epaal X G901 optical mouse is compatible with windows and mac both and works perfectly. I personally like to use this mouse(gaming under 1000 price range) for multiplayer gaming as well, It provides accuracy and the handgrip is also perfect because of its body structure. This mice weight is 135g so those who play regularly long hours games also find it perfect.
Pros:
You will get a 5500DPI Gaming mouse under 1000
There are 8 adjustable programming buttons for smooth playing
Two extra buttons when micro-management and call commands in DotA
You can use its double click feature of the mouse in shooters
Cons: 
You will find it difficult to choose any specific colour for this mouse
Some of this model right mouse button isn't very responsive.
Please check the latest Price of this gaming mouse here: Check Here
EvoFox Gaming mouse is made by Amkette, this mouse comes with Up to 4800 DPI Sensor and also have  7 Programmable Macros Buttons to get the stability and accuracy.  The company claimed that It is capable of 5 Million clicks and comes with a strong Braided cable also you will get and a Magnetic Cable Ring that helps to enhances data transmission. Its Polling Rate is 125Hz and IPS- 60in/Sec.
The mouse will allow you to customize all 7 macros buttons with DPI level and RGB colors according to your need and it is compatible with both windows and mac devices. Wire quality is really good with the best RGB lighting effects, so I can say overall one of the best gaming mouse under 1000 price range in India. 
Pros:
RGB Lighting effects are absolutely best in this price range.
You will get a

Magnetic Cable Ring that helps to enhance data transmission

All 7

Programmable Macros Buttons are customizable.

Lightweight mouse 127 g
Cons:
Some users complain about sweating after long plying hours
You might feel uncomfortable if you have Small Palm.
You can check Price of this mouse here: Check Here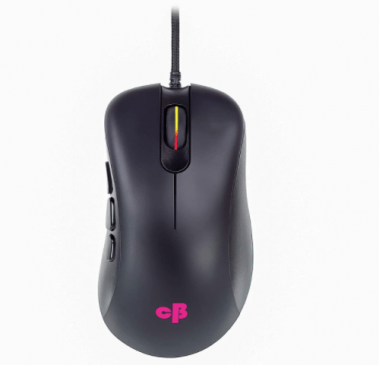 If you are a Pro gamer and play games for long hours then this is the best gaming mouse under 1000 price range for you. It has designed with special anti-slip and anti-sweat texture for the best handgrip and comfort so that while playing for long hours your hand doesn't get hurt.
This mouse comes with an 800 to 6400 DPI sensor and 1000Hz polling rate and the weight of these mice is also Just 96 gram making it one of the best gaming mouse under rs 1000 in India. RGB light of moue can be controlled through software and sensors is accurate.
Cosmic Byte Hydra RGB mouse is so smooth while moving and headshots can be placed clearly and also dirt doesn't get in the under part which is a huge plus for this mouse.
Pros:
Weight is only 96 gram
You will get a 6400 DPI sensor mouse under 1000 price
Comfortable in hand with dustproof design
Sensors are so strong you can use it without a mouse pad
Cons:
The side bottom of the mouse are of bad quality
The packing provided by the company is not good
Check Price Here: CHECK HERE
Buying  Guide for Best Gaming Mouse in 2022
When you finally decided to purchase the best gaming mouse under 1000 for gaming then must consider these things while selecting your favourite mouse.
Weight of Mouse: To get great control while playing a heavy game lightweight mouse will work better as compared to weighed mice. We suggest maximum weight would be 150gm for any wired or wireless mouse.
Hand Grip on Mouse: This is one of the most important parts while selecting Mouse for gaming. Handgrip on the mouse is very important, If the grip is not perfect then control on the game will affect and also lead to pain in hand for the heavy gamer.
DPI Level: For playing hardcore games people consider over 6000 DPI is best but considering the budget you can get up to 3500 DPI Gaming mouse under 1000 rs in India. Most of the gamer still using 800, 1000, 1600 DPI while playing games.
Programmable Buttons: Gaming Mouse comes with programmable buttons to access specific actions called macro. These buttons will help you to control games better. Generally, you will get 6 buttons in the gaming mouse named thumb button, backward, forward, left thumb, backward motion buttons, and right button.
Acceleration: If your mouse acceleration is not good then it can harm accuracy while playing games. So never buy a gaming mouse with built-in acceleration, without acceleration, your mouse will move exactly as you want.
Response Time: If you are really looking for the best mouse to play the hardcore game then don't buy a mouse with less than 1ms response time or 1000Hz polling rate. The difference of microseconds have a huge impact on gaming control so choose wisely
Sensors: For Gaming Mouses, optical sensors perform better than the leaser sensors. Optical Mouse use LED technology which has lower sensitivity so that you can get great movement while playing games. Razer Boomslang is the first company who made optical mice in 1999, at that time optical sensors are in a development phase,
Conclusion
So finally we came to a conclusion about which mouse we should purchase. We know that the most important feature of any gaming mouse is its precision and accuracy while playing games and these both features depend upon the quality of the optical sensor present in that particular mouse and its DPI (Dots pers inches) resolutions. Some more important features of the best gaming mouse under 1000 are how comfortable it is in your palm and mouse cable and button clicks.
We already explained all mouse features details and their pros and cons according to our personal user experiences and user reviews available on the internet. So now you have to decide what feature you need most in those mice and select that mouse because in a limited budget you will get some good features and some ordinary features. If you ask our personal opinion of the above mouse list then here is top 3 according to us Armaggeddon SCORPION-5 Wired Optical Gaming Mouse, Dland Zelotes LED Optical 5500Dpi 7 Button Gaming Mouse, EvoFox Phantom Wired Gaming Mouse.
Hope You guys enjoy reading this article about best gaming mouse under 1000 and it also helps you to choose the best mouse which enhances your gaming experience.