All audio equipment and instruments used in sound production activities or events undergo extensive testing to ensure they're of good quality and fit for their intended use. That way, people can use them for music, entertainment, amplifying sound, and other audio enhancement activities without problems. Several sound engineers and technicians are involved in this process to ensure that all the equipment and instruments are ready for production.  
The sound engineering team typically has to do a series of audio testing measurements and quality checks before the event or activity starts. To do this, they use audio analyzers, which provide insights into the performance of the various audio devices and instruments. The good thing is that audio device analyzers have become highly accurate and objective in evaluating sound quality. Here's a short guide on why audio testing is valuable.
What Are Audio Analyzers
An audio analyzer is a piece of testing equipment used to test and measure the audio performance of different instruments, equipment, devices, and gadgets that produce sound. There are various ways to perform audio testing. Audio analyzers are the primary equipment used to measure the quality of the make and the performance of audio equipment, devices, and gadgets.  
Testing the sound coming from speakers, stereos, microphones, headphones, earphones, and other electronic sound-producing or amplifying devices is one of the most common applications of audio analyzers. This procedure is essential for many reasons. For one, audio testing is the most reliable and accurate way to test both the strength and the quality of the signals emitted by electronic devices. For some devices, the audio performance and sound quality testing would have to be done using software applications and soundcards.
The audio analyzer works by sending a test signal to the instrument or device being tested; which is referred to by sound technicians as a Device Under Test (DUT). When the DUT receives the test signal, it would then emit a signal which is a response to the test signal sent by the audio analyzer. The output signal emitted by the DUT is then compared by the operator of the audio analyzer with the original test signal, which came from the audio analyzer.
The analysis of the performance of the DUT is based on the difference between the original test signal from the audio analyzer and the output signal emitted by the DUT. The audio analyzer uses various measurement indicators to come up with its analysis. Here are some of the standard parameters used by audio analyzers:
Gain

Phase

Crosstalk 

Signal-to-Noise Ratio (SNR) 

Total harmonic distortion plus noise (THD+N)
Why Audio Testing Is Important
Audio testing is essential because it's the only reliable and accurate way to determine the quality and performance capabilities of any audio equipment, instrument, device, or gadget. Audio testing can objectively distinguish whether the audio equipment can produce the sound they're expected to make at any given moment.   
There are many reasons why audio testing is an indispensable aspect of calibrating and maintaining the sound quality and audio performance of audio equipment, instruments, devices, and gadgets. For one, all audio equipment, devices, and gadgets will have to be tested to ensure that they meet the standard of quality and audio performance expected by the people who buy them and use them. Otherwise, buyers of audio equipment won't have any way of determining what to expect from the audio equipment they buy.  
Audio testing is an essential and critical aspect of making audio equipment from the design stage up to its application. From the moment the audio equipment and instruments are being thought of and designed, audio testing plays a critical role because the design team has to make sure that the audio equipment would emit the sounds according to the quality that they were designed to produce. They also will need to be tested to see whether they're performing at their standard level.
Applications Of Audio Testing Equipment
There are various and multiple applications for audio testing. Here are the common ones:
One of the primary uses, which make audio testing critical, is that it's used as the measurement of the standard and quality of almost all kinds and types of audio equipment, instruments, devices, and gadgets. Audio analyzers perform the critical role of assessing the audio quality and performance of audio devices to ensure they produce excellent sound quality.    
The audio testing is done by comparing the sound quality and audio performance of the instrument or device with other equipment or gadget. If the variances are significant, there's likely something wrong with the DUT. It's crucial to test audio equipment and devices before they are deployed for actual use in sound production. Otherwise, the instruments or equipment may produce embarrassingly flawed sounds that could humiliate the production team.
Audio testing is also a critical part of all product enhancement efforts. Audio testing is the only way to gather baseline information on the standards and audio performance of various musical and audio equipment and instruments. Sound technicians need to know how audio devices perform before they can devise ways to improve and enhance their musical instruments and audio equipment.  
Audio testing is essential to audio equipment and instruments and audio analyzer design, engineering, and manufacturing industries. These industries need to constantly measure and test the quality and performance of the audio equipment they will sell or use. They can only identify and work on what needs to be enhanced if they do honest performance testing and assessments.  
Audio testing is crucial to the sound improvement or audio enhancement process. Sound engineers and technicians need to conduct audio testing and performance measurements over and over until they achieve the sound enhancement they want to hear from the instruments and equipment that they designed and manufactured. They constantly use the audio testing results to determine what other things can be improved in their audio equipment. 
Sound engineers and technicians use the audio testing results to constantly look further for ways by which they can improve electro-acoustic and electronic products and services. They would then use the ratings they obtained from the audio testing stage to look for other solutions and technology. They can then build on this reference by introducing changes by constantly improving and enhancing their products. 
Audio testing is also a critical element of quality assurance. Audio analyzers are needed to ensure that all electronic and electro-acoustic instruments, equipment, gadgets, and devices go through rigorous testing. It is the only way to guarantee that the quality of these instruments will meet the design and manufacturing standards accepted by the respective industries where they will be used.  
Manufacturers need to ensure that their products meet the specification requirements before they're rolled out for use by the customer. Without audio testing, millions of audio equipment, instruments, devices, and gadgets would be released and sold to the public without ensuring that they're as good as their packaging and marketing claim them to be. This scenario could result in numerous product defects from the manufacturing and possibly even the design stage.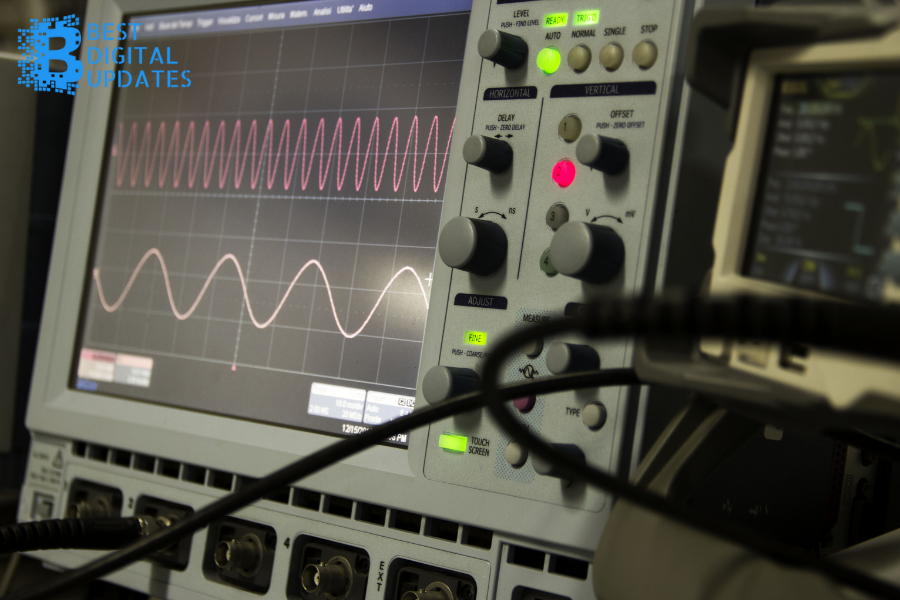 How Audio Testing Is Done
There are many different ways by which audio testing is done to measure the quality and audio performance of the various kinds of audio equipment, instruments, devices, and gadgets. These tests are used to measure the audio quality and sound performance of electro-acoustic instruments and audio devices. Here are some examples of the testing methods used:
Detecting Rub & Buzz Method
The Rub & Buzz Detection test applies a chirping stimulus, which is used to identify defects to evaluate the audio performance. This method is used to check if any equipment defects are being caused by the existence of a high peak ratio coupled with a high crest factor. It can also detect if the suspension elements of the DUT aren't attached to the equipment's frame stably and rigidly by adhesion components.
Identifying Air Leaks Method
Audio testing is also done to determine if there are any equipment cracks and air leaks in the DUT. Here is how the air leaks are identified:     
The audio equipment emits a low-frequency original signal, which is then used on white noise as a modulation stimulus.

Based on the feedback from the weighted white noise, a testing model is created. This model is used to spot if there are any leaks in the enclosures of the device.

Some leaks of the instrument, equipment, or device happen during their manufacturing process. Another possible cause of leaks and cracks is when enclosures are poorly sealed. 

It's crucial to detect leaks as they can impact the sound quality and audio performance of loudspeakers.
Audio testing of loudspeakers is essential because air leaks can cause unwanted noise. It becomes more difficult to do audio testing when the loudspeaker is already being used in actual production because the interferences from the air leaks can get concealed when the room or venue where it's being used is very noisy.  
The Thiele-Small measurement is an audio testing method that is used to identify if there are any impediments to the sound quality and audio performance of equipment. The test is often done to find out if the loudspeakers are giving off any critical indicators that could point to instances of low-frequency performance. The test results can also evaluate how loudspeakers and enclosures interact during sound production.
Conclusion
Audio testing is an essential part of the design, manufacturing, production, and application of audio equipment, instruments, devices, and gadgets. It's the only way for manufacturers to measure the quality and performance capability of the equipment they produce. Audio testing is also an indispensable element in product innovation and enhancement. So, if you are thinking of skipping this step before an event or during the designing process of audio equipment, you better reconsider.