If you spend most of your time using a desktop computer, you should have a monitor with the features that suit your needs. There are different types of monitors available on the market, so you should choose the one that fits your needs. You need to consider various things before you buy a monitor for your computer. Read on to learn how to choose the right monitor for your PC.
Purpose
First and foremost, you should consider the purpose of the monitor before you buy it. Some people use their computers for professional use, gaming, or general use. Gamers should prioritize monitors with fast refresh rates and high resolution while professionals should consider color accuracy. On the other hand, general users should get monitors with high contrast panels. 
Screen Resolution 
Screen resolution or the quality of pictures and videos that you view on your screen should help when you choose the best monitor. For gaming purposes, you must get the best monitor for RTX 3080 that supports graphics cards with increased memory and speed. The standard resolution for most monitors is 1920 x 1080. This resolution is shared with most tablets, phones, LCD televisions, and it is suitable for many purposes. Depending on your usage, a high resolution offers you a better experience. On top of that, you may also consider other features like brightness and contrast. 
Screen Size
The size of the screen is another important thing that you should consider when you choose a monitor for your computer. While the screen size is a matter of personal preference, it affects the cost of your PC monitor. Larger monitors are appropriate for purposes like video gaming, watching or editing videos, photography, and others. However, if you do not use your PC for intense work, there is no need for a large display. Any monitor above 34 inches may be too big for your computer. Another thing that you must consider is the size of your workspace. 
Design
PC monitors come in different designs, and they suit the needs of different users. Curved monitors are the most classic, and they give you the best display without straining your eyes. Other monitors have flat screens, and they are ideal for general users. Other features that you can consider regarding design include the following: 
Adjustable stand

Mounting brackets

Integrated camera and speakers

Daisy chain that helps you to connect multiple monitors to a single PC
The use of your PC can determine the features that you may consider when buying a monitor. 
Connection Type
You must check the connection output on your computer so you can see the kinds of ports available and buy a monitor with the right features. If the monitor does not have similar connection ports, you may need a special cable or adapter. There are different types of connections available on various monitors that include the following:
Video Graphics Array (VGA)-

works with analog as standard and consists of several limitations compared to other connections. 

Digital Visual Interface (DVI)-

old but still used on desktop motherboards, monitors, and discrete graphic cards. This monitor connection is big, and it consists of a screw-down connection meaning that you may not be able to use it on a laptop

High Definition Multimedia Interface (HDMI)-

this type of connection is very common and convenient. It carries both video and audio and is probably the most popular connection available on the market.

DisplayPort-

this connection type comes with several features for different PC users. This monitor brings newer digital connections that include HDMI and DisplayPort. Like HDMI, DisplayPort is more advanced, and it uses a single cable to handle both audio and video. With this kind of connection, two or more displays can be connected to a single monitor.  
As you can see, there are different types of connections you can choose from. Your purpose can determine the monitor that you can buy.  
Price
Above all, you must consider the price of the monitor before you buy it. There are budget monitors while others are pricey depending on many factors like features, design, and resolution. You must also double-check if the monitor comes with a warranty and understand the return policy before purchasing the monitor you want.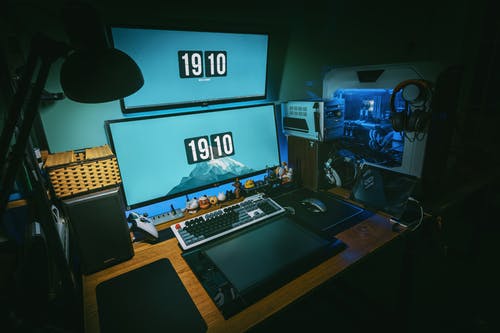 No matter what kind of PC you have, the type of your monitor affects everything that you do. Whether you are using your PC for gaming or work, you must get the right monitor that suits your needs. You do not need to waste money buying something with additional specs that you will not use. The basic features that you should consider for your monitor include size, resolution, connection type, and price.