In an age when interactive visuals are a rage, an online video editor is a crucial tool on the marketing battlefield. Among the many software and apps available today, Clipchamp is a suitable choice as a small business video editing solution, as a creative tool for marketing teams, and as a fun and convenient app for students and YouTube creators.
Or is it?
Clipchamp boasts of its free and easy-to-use video editing platform. You can simply go to their website, create a free account, and start editing. No time-consuming downloads required.
No Annoying Watermark
This just has to be the first feature to tackle in this review. No opaque brand logos or "made with" endings with this online video editor when you download or export your video with 480p resolution. Not too shabby, indeed!
Getting Started
The video editor offers three options: To create using a template (and it has a large library of this), start with recording your webcam or screen (awesome for tutorials and demos), or to create a video from scratch.
Ease of Use
Since the tools are displayed in a straightforward manner, the learning curve is shallow. The buttons and icons are properly labeled. And no fancy technical names that will throw you off.
Tools and Other Perks
Clipchamp offers a lot of features and there is no reason to not jump right to them:
Clipchamp allows you to cut unwanted portions of a recording with ease.
Got a bunch of clips you want to put together? This editor has combined and split features for making videos shorter or longer.
Shooting from your webcam is quick and easy. Simply use the flip and mirror feature, for both horizontal and vertical formats, to make it play right.
Clipchamp lets you crop them out by reducing the images or any portion of the clip. You can also rotate the video to 90 and 180 degrees.
Overlay, Titles, and Captions
Create a picture-in-picture effect with the video overlay feature. This is great for those who love to create reviews, gaming videos, and presentations. You can quickly add titles and captions to your video and even get to choose where and when they would appear in the clip.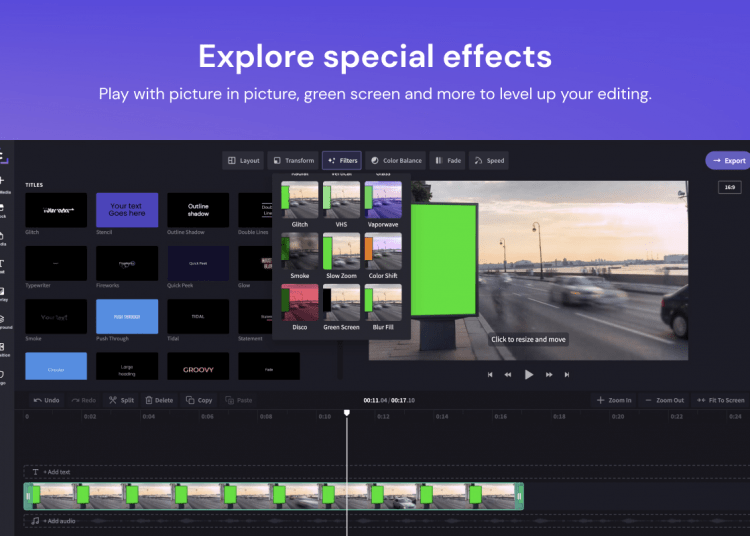 Green screen backgrounds ain't just for movies anymore. This editor lets you remove and change the background of your video and add special effects while you're at it.
People love filters and you get to choose cool ones in Clipchamp. Transitions are also available and you can easily drag and drop them where you want them and shorten or lengthen them right there. No special powers required.
Not confident about doing a voiceover? Clipchamp got your back. Choose from 14 voices with varied accents, characters, gender, and age.
Budget and Price
This can make or break a video editor's rating. Clipchamp makes sure that your creativity is not limited when you can't shell out enough cha-ching.
The Basic plan is free for personal use (except for audio and video stock, which you have to pay $10 for each one you add). With this, you get:
Unlimited video exports
Supports 480P format
The Creator plan is for posting content on social media. This $9 plan offers:
Unlimited video exports
Supports 720p format
Free audio stock (unlimited)
$5 per video stock
The Business plan is targeted for marketing use and is best for producing high-quality videos. It costs $19 per month and offers:
Unlimited video exports
1080p format
Custom branding
Free audio stock (unlimited)
$5 per video stock
The Business Platinum plan offers all the perks mentioned above but with free unlimited access to video stock. It costs $39 a month.
The Team Plan is still in the Beta phase and it can be used by over 50 team members, perfect for companies.
Conclusion
Let's keep it short and sweet. Is this a video editor worth using? Yes. Whether you are an amateur trying your hand at video production, a small business owner, or a market that needs to boost your product campaign, Clipchamp is indeed a champ.